Goddess as Social Construct now on Youtube!
On March, 21th this project was presented at the Webinar series of TRAC (Theoretical Roman Archaeology Conference): now available on youtube: https://www.youtube.com/watch?v=fEnLlMlVp_c. The talk was entitled Goddess as a Social Construct.
Emile Durkheim noticed that the religions are social constructs and base on the perception of the societies.[1] This theory was later developed by Peter L. Berger in 1970'. His work "The Social Reality of Religion" became an inspiration to look at the issues of cult of the goddesses in the Near East from Hellenistic times to the edict of Constantine the Great (313 CE). His ideas such as society as a construct of man and mimetics of the reality of that socially constructed world[2] will be reflected through this talk on the issue of the worshippers of the goddess Atargatis, known also as Dea Syria. Her cult was spread in the Near East as well as beyond of this vast region presenting such features, like involvement of eunuchs, presence of women, etc. I will provide highlights on the cultic personnel, but also on the individuals who set up dedications and I will show the geography of her cult, basing on the epigraphical (inscriptions) and archaeological (temples) material. This paper is an introduction of the research on the project Al-At: People of the Gods. The worshippers of Allat and Atargatis in the Near East from the 4th c. BCE to the 4th c. CE funded by NCN MSCA grant Polonez BIS 1 at the University of Wrocław.
Bibliography:
Durkheim, E. 1912 (2008): The Elementary Forms of the Religious Life, Oxford.
Berger, P.L. 1973: The Social Reality of Religion, Harmondsworth.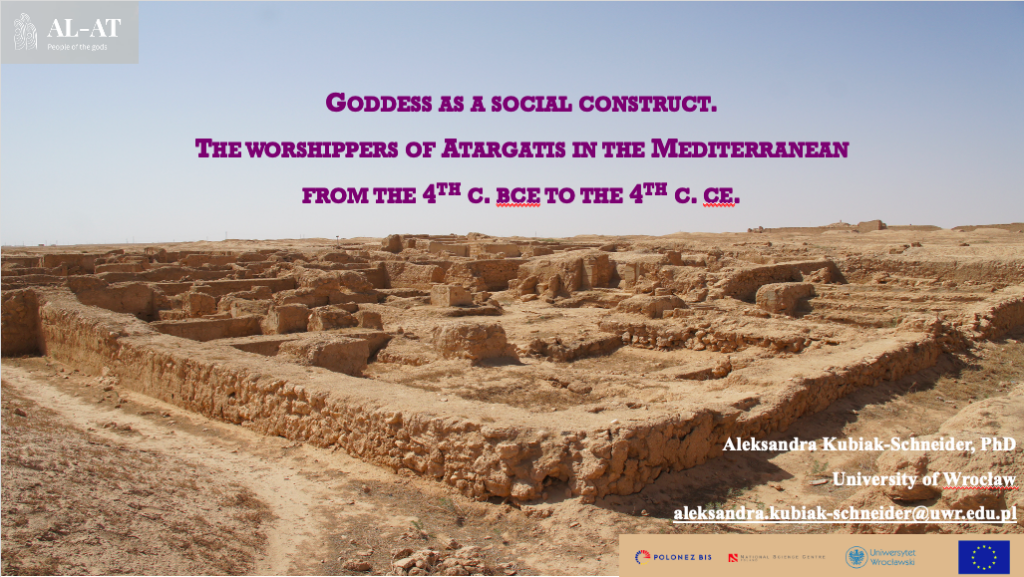 The decision of the funding came in late May 2022. This project is realized within the grant Polonez Bis 1 https://polonezbis.eu/pl/ , cofunded by the National Centre of Science (NCN-Poland) with European Comission Horizon 2020 MSCA-COFUND. It got a 7th high note in the classification of the projects.
Launching the website of the project
Together with the A.net team the official website of the project Al-At was launched. This is a place where you can be informed on the project outline, current works, achievements and you can find contact to the PI as well as pictures illustrating the researched topic.